Friday Faves: Wedding Food Trends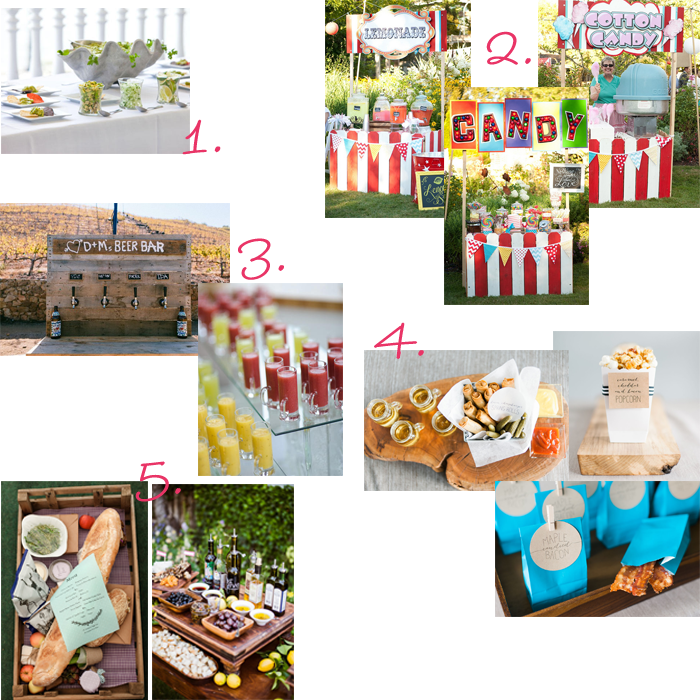 Wedding food trends that break the mold…without breaking the bank
They say the way to someone's heart – is through their stomach. (Especially if it involves guacamole.) Here's another fun fact: besides the lovely favors or the decorations or the venue or the ceremony – all of which I'm sure you've poured hours of painstaking detail into – what are your guests going to remember you for? The FOOD! Yep, not even an open bar can trump the noms at a reception. From this wedding planner's experience, absolutely everything else can be forgiven and forgotten in light of well-planned, well-executed, clever and, mostly importantly, delicious food at a wedding reception. I mean, really, why on earth would Owen Wilson and Vince Vaughan have crashed several weddings in a row as a hobby (bridesmaids notwithstanding)? Of course it's the food!
Guests may or may not remember your drunk bestie giving an awkward speech, the color of the linens, or The One Where Underdog Got Away, but they will most definitely remember how you served them, what you served, and how it made them feel. So this Friday, for your eyes (and stomach) only, I've got five great foodie ideas for ya – put your own spin on these ideas for a reception your guests will remember. Hungry yet?
1. DIY Food Bar – DIY food bars at weddings take the traditional self-serve food stations at weddings to the next level. Guests are wowed by the originality, and each creation is unique and personalized to individual tastes – perfect for a group of picky eaters! Number 8 is likely to be my favorite, but #6 looks delicious…and beautiful, with veggie bouquet decorations! Just about any of your favorite foods can be deconstructed into a DIY food bar – guacamole, s'mores, even mashed potatoes! Serve the base in individual portions, then add toppings and mix-ins in a variety of bowls and dishes with spoons or scoops for self-serving. (Then your guests' only concern is getting the perfectly roasted markshmallow and the right chocolate to marshmallow ratio.)
Check out this link for a handy-dandy list of Ohio caterers and ask about designing a DIY self-serve food bar for your favorite foods!
Photography courtesy of Sweetwater Portraits by Julie Melton
2. Carnival Food – Here's the secret to getting a roundup of carnival food at weddings just right: you have to put yourself in the mind of a 6-year-old in a candy shop. (For some of us, it's that that difficult. 😉 ) Remember the surprise and wonderment, and how your mouth watered at the sight of copious amounts of sugar and the blaze of color and carnival sounds – and that sense that you were suddenly in food heaven and that you had to pounce on everything simultaneously before it all vanished into thing air like the mirage you feared it might be. If you struggle to remember those days, ask a tiny human. Whichever method you use to inspire your menu of carnival foods, be sure to serve it up with playfulness! Set up self-serve stations for nibblers, or have swirls of cotton candy served to them by a cotton candy butler, of sorts.
Photography courtesy of Megan Elle Photography
3. Craft Beer – Something old, something new, something borrowed – and something you brewed! Craft beers are a great way to express your wedding's originality and one you can tailor to your own tastes. Brew your own, or check out one of the many Cleveland brewery options, like Market Garden brewery. Talk to a local brewery (you clicked the link, right?) to find out about your options if your heart is set on creating a signature beer for your wedding. Some even offer custom labels!
A new take on the wedding tradition: Something old, something new, something borrowed - and something you brewed! Click To Tweet
Soup Shooters – What's easier than drinking your food? Soup shooters are simple and striking way to serve your guests appetizers before the main course (if that's your reception food flow). The best thing about soup shooters is not even the cute and creative ways you can dress up the shot glasses (like how about tomato soups with mini grilled cheese sammiches? I DIE!). It's that there is a soup for every season! Opt for a cold watermelon gazpacho soup for summer, a spring split pea soup, a tomato and basil puree for a summer wedding, a creamy mushroom soup for a fall wedding, or a warm and hearty potato and white bean soup for a winter or fall reception. Spice of Life catering has some of my favorite soup shooters around!
Photography courtesy of The Melideos (craft beer) & Julia Newman Photography (soup shooters)
4. Themed Food – I adore this idea. Rather applying a theme to your entire wedding – Game of Thrones, for example –  picking one item or theme to center all your reception foods around, a la Master Chef, challenges the palette while mixing up the same 'ol chicken / beef / pasta menu. Just keep your guests' dietary restrictions in mind when selecting your primary food group and have alternatives on hand for those who don't share quite as enthusiastically in your theme, especially if your theme is "Everything Is Better With Bacon". (In light of recent bacon news, and all. womp womp. 🙁 )
Photography courtesy of Wedding Bells
5. Farmers' Markets Style Spreads – Presentation is as important as the taste of the food. (Haven't you been watching any of the cooking "wars" on the Food Network?) If you're inspired by the bounty of a summer or fall harvest, ask your caterer to set up a market-style display. Similar to the DIY self-serve food bar, a market-style spread allows your guests to customize their own meals, selecting only foods they find appealing. Food display spreads also double as decor! What's more stunning than natural beauty? Take it up a notch by showcasing locally grown foods – the perfect way to keep your wedding sustainable.
Photography courtesy of Wedding Bells
So share with me in the comments below: Are your eyes bigger than your stomachs with these fabulous ideas?