Friday Faves: Unique Proposal Ideas that ROCK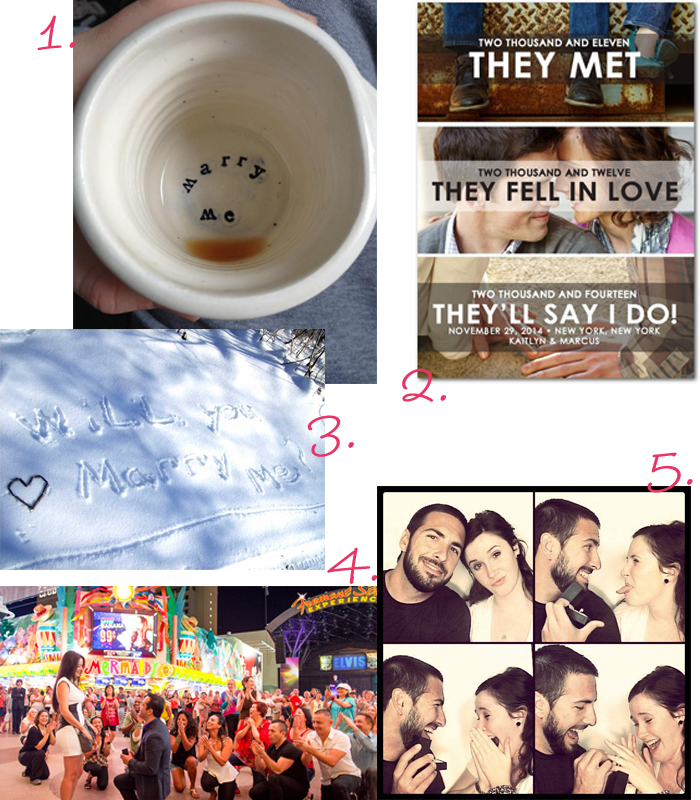 The most unique proposal ideas that ROCK (with or without a "Rock")
With the holiday season around the corner, you might find yourself thinking about a proposal – either on the receiving end or the proposing end. If that sounds like you, you're in luck, because today's post has you covered! (Note: Proposals can come from either partner – or you can mutually agree!)
Here at Event Plan-It, we know that awesome weddings and marriages aren't about the shopping, food, dresses, rings, or other material details (although they are are super fun and pretty, and we shall return to those topics in future posts!). It's actually all about the cake. (Just kidding. Sort of.) For reals though, for the truly important aspects of weddings we look to the experiences – the ooey-gooey, emotional, imperfect yet perfectly beautiful moments of every day living. The proposal just happens to be one of the earliest, most defining experiences in a marriage – that moment when you both agree to start the rest of your lives together, right now. And since we know that our readers are looking for something out of the ordinary, we've rounded up some off-the-beaten-path ideas for you – including a Star Wars proposal idea (see #2!). But know that you can never go wrong with a heartfelt proposal in classic bent knee in a relaxed and romantic setting.
 You can never go wrong with a heartfelt proposal in classic bent knee in a relaxed and romantic setting. Click To Tweet

Before we begin, though, I give you one warning about proposals: You should know with 99.9% certainty that your partner will say yes before proposing. If you're not sure of the answer, then it's time to have a heart-to-heart conversation about it. If you can't talk about marriage, you're not ready to BE married.
The key to an epic wedding proposal – that you won't mind retelling to the dozens of people who will ask you about it – is to make it personal. Even though you won't hear me say "you're a special snowflake", you and your partner deserve a special moment that suits the two of you like a worn-in sweater and seamlessly weaves its way into the story of your relationship. Here are a few ideas to help you make your own proposal plan (and if you need more help, contact Event Plan-It – we help with proposals, too!):
…At The Bottom of a Cup – Sure, you could propose with champagne, but that's so yesterday, right? (If classic vintage is your thing, then right on!) Instead of getting the bling soggy at the bottom of a glass, why not spell it out instead? Present the custom cup full of your love's favorite warm beverage, then wait…. And if your sweetie is a slow sipper, or like me, rarely finishes an entire cup, you might have to wait until the cup has been emptied in the sink to see his or her expression – and get your answer. But it's SO worth it!
…In surround sound and celluloid – There are lots to choose from (but don't worry, yours will still be unique!), but if this couple's story and reaction don't make you ugly cry for a split second, you're doin' it wrong. 😉 Theirs is a great example of the way imperfect relationship stories can make for perfect proposals. If you want to get really creative about using significant memories in your proposal, video (or an actual film, like this couple used) might just be the right way to do it.
Photo courtesy of Wedding Paper Divas

…On the way up a ski lift

– Well, here's one surefire way to ensure that your sweetie is a captive audience when you propose! Be prepared for a time limit to your proposal, though, because the ski lift doesn't operate on your schedule. If you're still game, this might be the ride of your life! Protip: You might want to reconsider handing over THE ring while you're flying high in the air, though. It would be a cryin' shame for someone to drop it into the powder below in the midst of flailing excitement. Propose without the ring (yes it's ok!) or with a stand-in ring, and then show your sweetie the reward when you're warming up by the fire…on solid ground.
…In the middle of a Flash Mob – Because Flash Mob. Yours might not be quite as choreographed and rockin' as the Bollywood babes in Slumdog Millionaire's Jai Ho, but I promise you'll have fun – and so will your honey. (Unless your partner doesn't to be the center of attention, in which case, abort mission!) If you do manage to pull this off, remember: video, or it didn't happen! (I wanna see! Link it here to share!) P.S. Is it just me, or should every flash mob proposal ever include a marching band???
…With a snap of the shutter – You're just taking some spontaneous selfies, old-school style, right? That's what your sweetie will think…until you stealthily present a ring between shots, ninja-like and perfectly timed to capture sincere surprise and joy. This is one way to capture your proposal moment in a low-key and whimsical way, for all eternity (or until cheap photo booth film-fade, whichever comes first).
Now, it's your turn to share with me: What kind of proposal are your proposing to pull off?