Friday Faves: Sustainable Wedding Event Ideas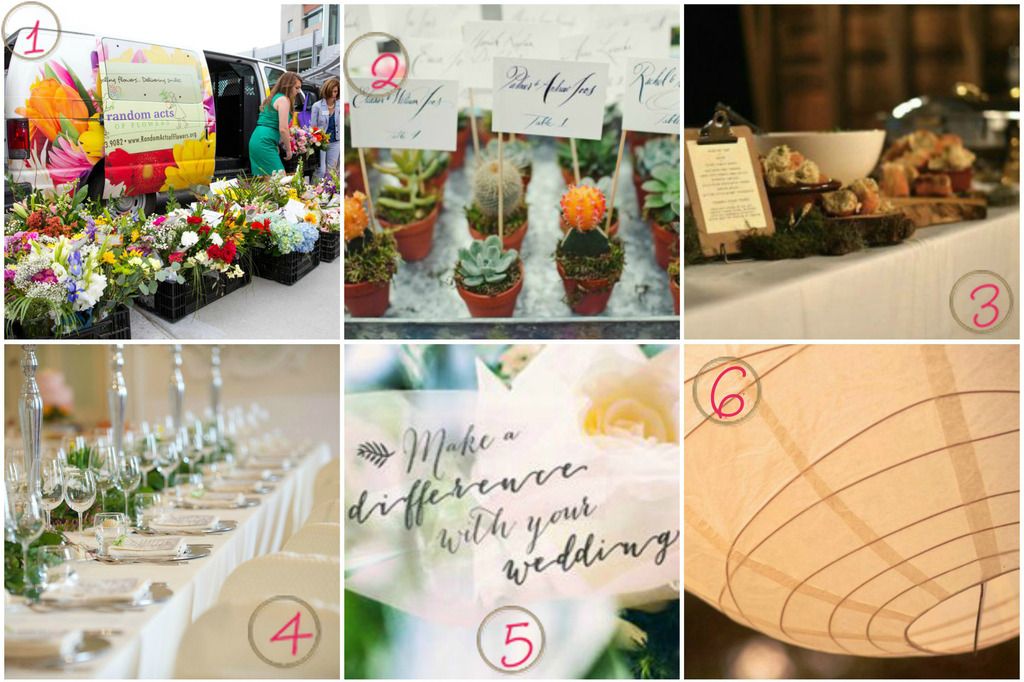 From "I Do" to "I Donate" – Sustainable Wedding Event Ideas for the Eco- (and Budget!) Conscious
A wedding event is usually a day to remember – the day you pull out all the stops. No expense is spared – even on a modest budget – and the celebration of love colors the air. But modern couples are increasingly asking themselves if there are ways to have their cake and eat it too: can you have a large-scale event that is also sustainable?
Can you have a large-scale wedding that's also sustainable? Of course! Click To Tweet
Glad you asked. With just a little research and the right combination of DIY-initiative and collective organization (not to mention a dash of creativity), ensuring you plan a sustainable wedding party won't be the exception – it'll be the norm. Luckily, I've got a couple of ideas up my sleeve and have done the sniffing for you in this week's Friday Faves.
Locally Sourced Food
Choosing the right vendor for your event can be an extensive process but most catering companies promise to pull out all the stops. Few, however, promise to do so while bearing a certification of "Green Restaurant", for adopting operational procedures that are sustainable, Marigold Catering being one of the handful (and local!) exceptions to the rule.
Opting to go local for your event menus means more than supporting your local community and economy. The added benefit is that it promotes sustainable farming practices within your community and means that you and your guests are eating fresh, locally-produced, in-season produce.
Finally, check out Knot Profit, a Northeastern Ohio company that focuses on couples who plan for sustainable weddings and curates a neat database of sustainable and fair-practice vendors.

Alternative & Sustainable Power Sources
One of the obvious areas that comes to mind when you're trying to scale back is energy. But it seems to be a catch-22: how can you hope to maintain a low energy footprint for a wedding event that's going to have to be larger in scale than your regular garden party, without sacrificing the integrity of your wedding?
Easier than you think. Again, a little pre-planning and thoughtful organization here will go a long way. Look to use solar panels as energy-efficient light sources for your evening events or, better yet, gather your guests for an outdoor lunchtime reception instead. Moving your party outdoors means you save on energy that would go in lighting a hall and keeping it through the day means plenty of natural sunlight. Just be sure to plan for a rainy day with tents – just in case – so the party goes on, rain or shine!
Couples can also take advantage of carbon offsetting options to support projects that work to reduce greenhouse gases and carbon emissions. Terrapass is a great option for purchasing carbon offsetting. This could be a great idea to get your guests onboard for as well. For more information on how carbon offsetting works and a list of projects, consult Green America.
And, finally, though this is a small gesture, every little bit counts: host a local wedding and keep the reception close to the church or the venue where you will be married. That way, guests, and you, can choose to simply walk without having to rely on motorized transportation.
Waste Reduction: Eco-friendly Wedding Favors
They say you should give them a gift to remember you by but we all know the way to most of our hearts is through our stomachs. Instead of giving a gift that is a "thing", why not opt for a sustainable alternatives? There are ideas galore, from organic food items wrapped in seed paper, soy candles, freshly baked cookies and even homemade jams. Bonus points if you can combine food and a green thumb: sweet herbs and potted plants as party favors make a great, truly green alternative. Soaps are also an excellent (and luxurious) gift.
Personalized seed favors from Red Cloud Boutique make a great way to say thank you to your guests and Mother Nature.
Donating Food
Choosing to donate leftover food is a heartfelt way to give back to your local community, celebrate your coupling and reduce waste. And doing so in the age of the Internet is a cinch. Simply visit Feeding America to find a local food bank and co-ordinate with them. You'll want to keep a few things in mind, however, when delivering your food. Coordinate with your caterers and make sure hot food remains at a certain temperature or is wrapped up and refrigerated right away. Plan for transportation – tupperware is your friend! An organization like Rock & Wrap It Up is a great ally in your efforts: use their Hungerpedia tool to find a score of vetted agencies that specialize in food recovery.
And, when in doubt, use some legalese: you can get your vendors and/or caterers to care as much as you do if your contract makes allowances for food wastage. A simple clause inclusion that mandates any leftover food must be donated to an anti hunger agency is a win-win for all.
Recycling Flowers
But food is not the only item you can recycle: opt to do the same for your flowers and keep the fresh blooms in circulation. Pay it forward by organizing a pick-up with a local company or gather a team, assign your wedding party a task and rally to coordinate the packing and composting of flowers. If you do choose to Do It Yourself, Barnes Nursery in Northern Ohio is a great option for composting flowers. If you're further out in New York & Boston, Rebloom is your go-to flower recycling service. And companies like Floranthropy and Random Acts of Flowers repurpose flowers for local community venues like elder homes and hospitals.
Let's hear an "Awww" all 'round. Make your wedding day a feel-good occasion for everyone!
Any sustainable solutions you've been hoarding?