Friday Faves: Geeky Wedding Ideas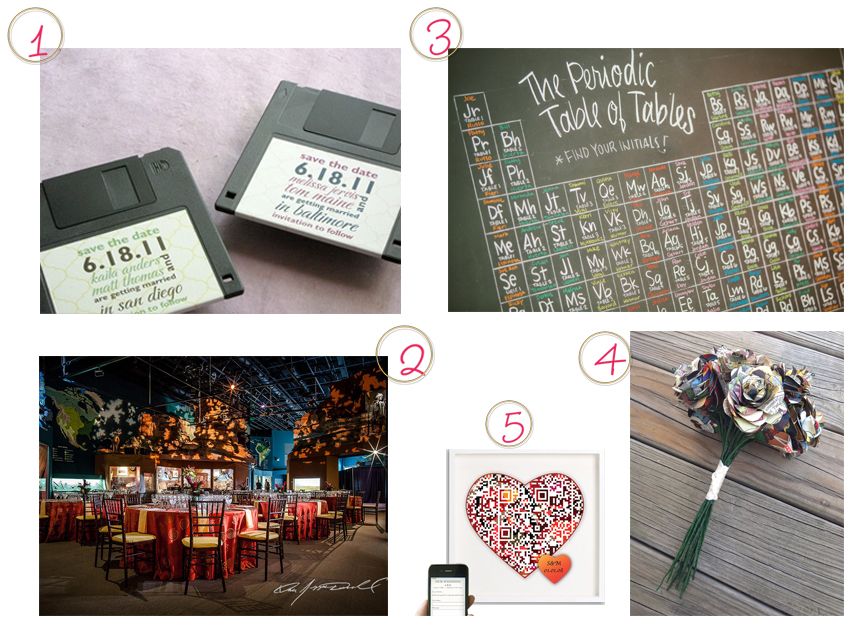 The jury's in on this one: geeky weddings are never out of style
With the party season right around the corner, you knew this was coming – didn't you? But instead of doing the usual roundup of "themed" weddings – yes, Game of Thrones, Borderlands, Dr. Who, and Hunger Games were all big takers this year – I thought I'd give you something to beef up the nerd factor awesomeness for your special day. Sure, if you wanted to go all in and commit – after all, what else are weddings about if not commitment, right? – then a themed wedding is your best bet. But if you love a varied ceremony and just want to give your guests (and yourselves) a clever giggle, these ideas are a great way to get in the geek groove (which probably looks something like the Steve Urkel dance…or maybe the Carlton…or is it the Elaine dance?).
1. Save The Date…On Floppy Disks – For all you young 'uns that have absolutely no recollection of what a floppy disk is or those of you pretending to be too hip to be square, let me remind you of this oldie but goodie. The floppy disk was originally invented by 3M back in the '90s and it's a great way to have a throwback wedding that's slightly geeky too. This is a great idea for DIY weddings – floppy disk packs come with the label included! Make your own or get professional print outs. Either way, you're sure to gain a few fond looks. It's a save-the-date everyone will actually want to save.
2. An Historic Day – Because who doesn't want to host a reception surrounded by ancient dinosaur fossils and beautiful clay artifacts? This will truly be a night to remember – A Night At The Museum. The Cleveland Museum of Natural History is an exceptional local venue that makes for a great setting around a themed wedding or just as an unconventional space for a reception. (It's not quite a Jurassic World wedding….but close! And there will definitely be dinosaurs!) Additionally, you can keep it totally local (not totally loco) by using Marigold Catering, a venue-approved vendor for the museum.
It's not quite a Jurassic World wedding...but close! There will definitely be dinosaurs at The Cleveland Museum of Natural History! Click To Tweet
3. The Periodic Table…of Tables – Okay, here's another DIY fave of mine. Why, you ask? Well, because it involves a geeky idea and incorporates a pun. Two in one! The periodic table of tables is tons of fun to create and even better a finished product. All you need is a large chalkboard, plenty of colored chalk, a ladder (if you're a shorty like me), and the birds and woodland creatures from Snow White. If those woodland creatures refuse to cooperate, of course, you can always get the kids in your wedding party to help – and adults, too. This project is fun for everyone! Not only is the process rewarding but the end result is just plain punny.
Photography by Leah Vis of Vis Photography
4. The Comic Book-quet! – This is a truly original idea that is sunny, unconventional and perfect for any offbeat couple. Beautifully crafted flowers from comic book pages? A little pop-cultural kitsch on your arrangement? A little Marvel nostalgia as you walk down the aisle? Each bouquet is handcrafted (my goodness, when I think of the hours that must go into that…!) and serves as a memory keepsake, conversation starter, one-of-a-kind centerpiece, and I'm betting all your geeky girlfriends will want to capture that bridal bouquet. Check out Cleveland-based paper flower artist, Love, Anji for other locally made paper flowers.
5. A Digital Signature – Etsians are at it again. I absolutely love it when tech and art and weddings converge! It's like the triple threat of wedding goodness! Instead of the traditional guestbook, have your guests scan the QR code on these gradient hearts to record just how much they loved your wedding. After all, weddings are all about interacting with your guests and it gets even better when your guests can interact with the reception you've built and staged around them.
What's your favorite nerdtastic wedding detail?