Friday Faves: Fall Wedding Ideas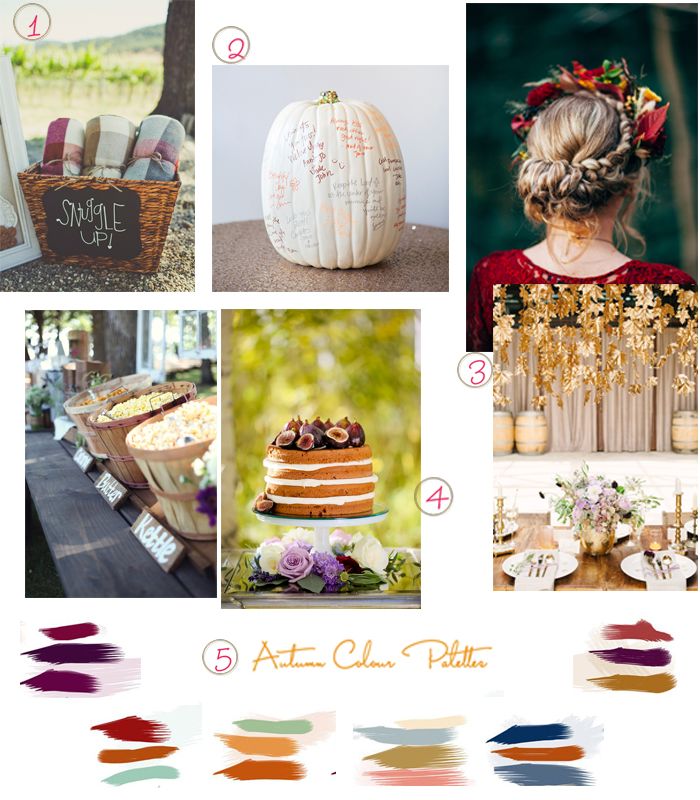 Fall in love all over again with These unique fall wedding ideas
Fall is by far my most favorite season. Much more than just a transition between hot summers and frigid winters, fall brings with it a tangible shift – in the air, in the colors, in the position of the sun in the sky – along with the promise of change. What could be more dramatic or thrilling? Like the science magic of a stew thickening as it boils, fall deepens, darkens, and makes everything feel richer. Even mother nature's wardrobe enriches to regal jewel tones in the fall. If you were thinking about a Game of Thrones-inspired wedding, there is no better time than fall.
It's undeniable that here in Northeast Ohio, fall is an event in itself. Most places in the world experience summer and winter, but Ohio is one of the lucky places where we have a true autumn. For a few brief weeks, leaves slowly, then suddenly reveal their true colors, flashing their candy reds, fiery oranges, and sassy golden yellows before relaxing into a burnt sienna (which, you guessed it, was my favorite crayon color), breaking loose, and drifting off to fulfill their destinies. If it sounds poetic, you're exactly right. The season's inherent intensity and anticipation are precisely the reasons why Dead Poets Society, Good Will Hunting, and so many other film gems take place in the fall: it's much more inspiring (and cinematically gorgeous) to have philosophical conversations among jaw-dropping natural beauty (still talking about fall here, though a young Matt Damon helps a bit, too). Fall brings its own magic, underscored by cozy sweaters, chic boots, cinnamon-y pumpkin spice lattes, and all-you-can-eat clambakes. It comes as no surprise, then, that fall is one of the most popular times to hold a wedding here in Cleveland.
If you're planning a fall wedding, why not take advantage of the breathtaking natural color palette, festive pumpkin carvings, crunchy leaves galore, bare-barked trees and the fruits of the harvest season? Even if you're not wedding planning, take some time this month to enjoy the many fall / pumpkin / apple festivals here in Northeast Ohio!
1. Stay Warm in the Fall Season – No doubt, fall is by nature a bit unpredictable. Put your own stamp on your wedding while compensating for the chillier weather by offering your guests blankets that double as handsome and clever favors! (Maybe offer your bridesmaids cozy shawls as gifts to wear during an outdoor ceremony, too.) Guests will appreciate your thoughtfulness, and your photographer will appreciate the optics of the rustic and textured personal detail.
Photography by: Sarah Kathleen of Sarah Kathleen Photography
2. A Pumpkin Carriage Guestbook – Is this not the best DIY guestbook idea ever?! It just doesn't get any better – or easier – than a pumpkin guestbook. If you're looking for a keepsake, you'll want to get something that will last longer than the season – an artificial pumpkin from a craft or Halloween store will do (Get yours on sale this year for a 2016 fall wedding!). A white or creamy pumpkin will show signatures a bit better and works well with a traditional wedding palette (and OMG that glitter stem!!), but you could paint yours black or another color and offer contrasting or metallic sharpies to your guests for signing. Display it every year for a festive and seasonal anniversary reminder.
Photography by: Mike Carreiro Photography via Something Turquoise
3. Let Them Have Leaves! – As a crafty wedding planner, I'm all about taking found items and adding a creative twist for something completely unexpected. One way to incorporate nature is to have your ceremony and/or reception outdoors in a field or vineyard, for instance, but don't discount the impact of using actual leaves in an indoor wedding. Stunning gilded leaves can elevate a rustic space into a palatial fall wonderland, perfect for a classy late fall wedding. I also love the idea of weaving a hair wreath or bridal crown with these firebrands, making for moody and romantic photos.
Photography by: Loren and Chris Photography
4. A Harvest Feast – I know you were wondering when I'd get to the noms section of this post. Is there anything that doesn't come alive and ready to thrive in the harvest season that is fall? We've got apples, pumpkins, squashes, root vegetables, corn, figs…and if you're not drooling yet, I've got a bell I can ring. 😉 I particularly love the idea of having a multi-barreled popcorn bar, complete with apple pie, caramel, or butterscotch-flavored popcorn (a warm and quirky seasonal flavor), or even zombie mix for an original twist! You could also go for maple-flavored candy, apple cider mimosas, spiked pumpkin-spiced ciders – the list of fall-inspired seasonal flavors is seemingly endless.
Bonus: use these CUTE Birch straws for your guests to sip their drinks or as decorations.
Photography (fig cake) by Pepper Nix and Popcorn bar by Lauren Kirkbride Photography
5. Freshly Baked Fall Palettes – We Ohio wedding planners tend to love autumn weddings because there are so many colors to choose from. More than in any other season (yes, even summer), fall weddings get to be daring and playful with their color palettes. While some colors bring summer to mind (bright blues, mint greens, sunny yellows, and floral pinks), in fall you can really play with dramatic contrast. This means your primary palette can consist of deep tones like crimson (or marsala, the color of 2015), navy, plum, and emerald, and your complementary colors can be lighter and more muted. You can maintain a wide spectrum with lots of rich variety in tones in a deep fall theme. And bonus: many autumn hues flatter a variety of skin tones.
So tell me…have you *fallen* for any of these ideas?