Friday Faves: DIY Wedding Details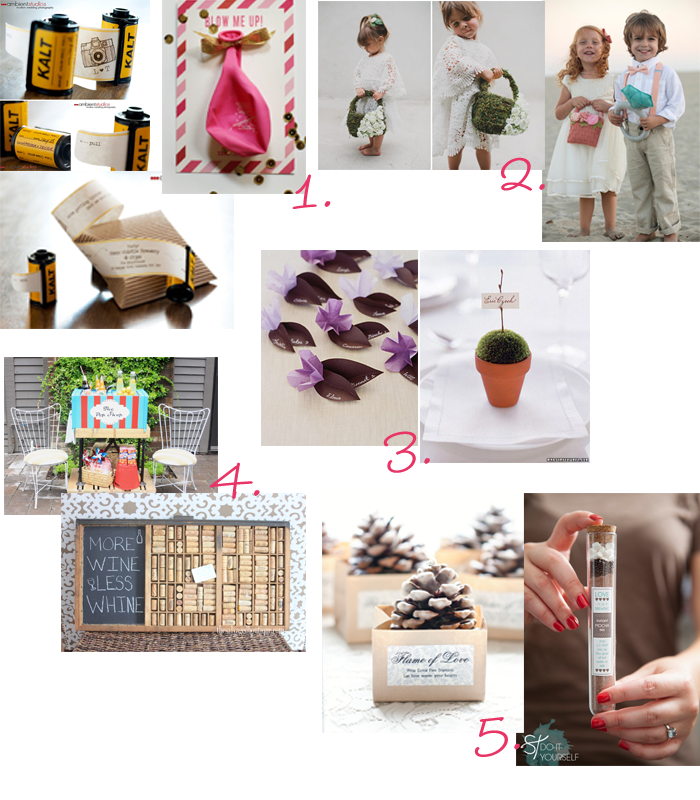 DIY the details and your DIY wedding will take care of itself
Why do they always say, "The devil is in the details?" I think it's because the details have the most potential to make or break us. On the one hand, DIY details can be a ton of work that will have you tearing your hair out. But on the flip side, they also give couples a chance to really personalize their wedding. My recent Hallowedding couple showed they were masters of the personalized wedding!
I'm a bit of a DIY nerd and an all-around scrappy lady. I get overly excited about the thrill of finding a deal, and part of my own work signature is helping couples to bring their vision to life, even on a budget. DIY details are not for the faint of heart or the easily frustrated, but they're the easiest way to add charm.
DIY details are not for the faint of heart or the easily frustrated, but they're the easiest way to add charm. Click To Tweet
One of my most favorite things about DIY projects, though, is the way they quickly bring people together – couples, families, and friends, all elbow-deep in hot glue and glitter. Or chalk paint or burlap, whatever your aesthetic. It's the process, far more than the outcome, that makes DIY-ing (yes, now it's officially a verb) well worth the effort. Funny how that whole process-over-outcome thing applies to marriage, too. 😉
Here's a little fave-spiration of DIY details for all y'all getting hitched in 2016. If you're DIY-ing it, get crackin' on your process right meow so that you can keep a tight handle on the purse strings while letting the creativity flow.
1. DIY Invitations – Film canisters, like vinyl record invites, are an adorable old-school way to announce your wedding and invite your guests. It takes a little while to cobble together, but you can use it as an opportunity to tell a story for your guests, much like the film itself does. This is one invite that will surprise and delight your guests.
Also check out that balloon invite! So easy to put together and just like the film canister invite, it packs a surprise! I love the interactive participation on the part of the guest receiving the invite. A far cry from your typical pretty, but passive, printed cardstock invitations. These ideas make invitations not simply a static detail but an experience.
Balloon Invites shot by Kari Herer Photography
2. Flower Girl Baskets – There's always the good old wicker standby, but a felt and moss basket for flower girls is not only incredibly adorable, but also super fun to put together (a great way to involve the kids!). If you have a rustic or garden theme, this tiny detail elevates it. Take it a step further and use fabric or felt flowers in your bouquet. A moss basket is also a great choice for a fall or winter wedding!
Felt Baskets shot by Mike Carreiro via Something Turquoise
Moss Baskets shot by Jen of Green Wedding Shoes 
3. Place Settings – I love the simplicity of folded origami flowers as place setting decor. Ornate origami and crepe paper doesn't take too long to fold (especially if you have a wedding brigade to help out!) and is easy on the wallet. Another great idea that doubles as a favor is a moss potted plant or a succulent place setting for a wedding that's sustainable.
4. Theme Decorations – An absolute gem and local favorite of the local Cleveland community are the creative sisters Kathy & Karen, inspired by their sweet Mamita, over at The Salvaged Boutique. Upcycling, re-loving and re-appropriating old vintage finds into modern day must-haves, this family team creates decor that can go from wedding to your new home. Drop by their newly opened storefront for some great advice, tips, tricks and workshops on upcycling all sorts of furniture in unique ways, lending character and charm to your event or interior space. Check out their blog for DIY tutorials and their Etsy shop dedicated to ready made and custom orders.
Party Cooler Cart and Wine Cork Organizer shot by The Salvaged Boutique
5. DIY Favors – The autumn-loving craftista in me can't get enough of these pinecone firestarters. If DIY ain't your thang but you love the idea, Nature Favors has you covered. Then there are these test-tube mocha mixes, which the geeky girl in me can't get enough of (fangirl squeal: geeky weddings rock!)  Get creative and add surprise ingredients to the layered mix. When the weather turns colder and you're rooting around for something warm to drink by the fire, you can always pull out the stopper.
Instant Mocha Mix shot by Mike Carreiro via Something Turquoise
So now, you tell me: does your eye for detail love these DIY ideas?