Friday Faves: Brides in Pants!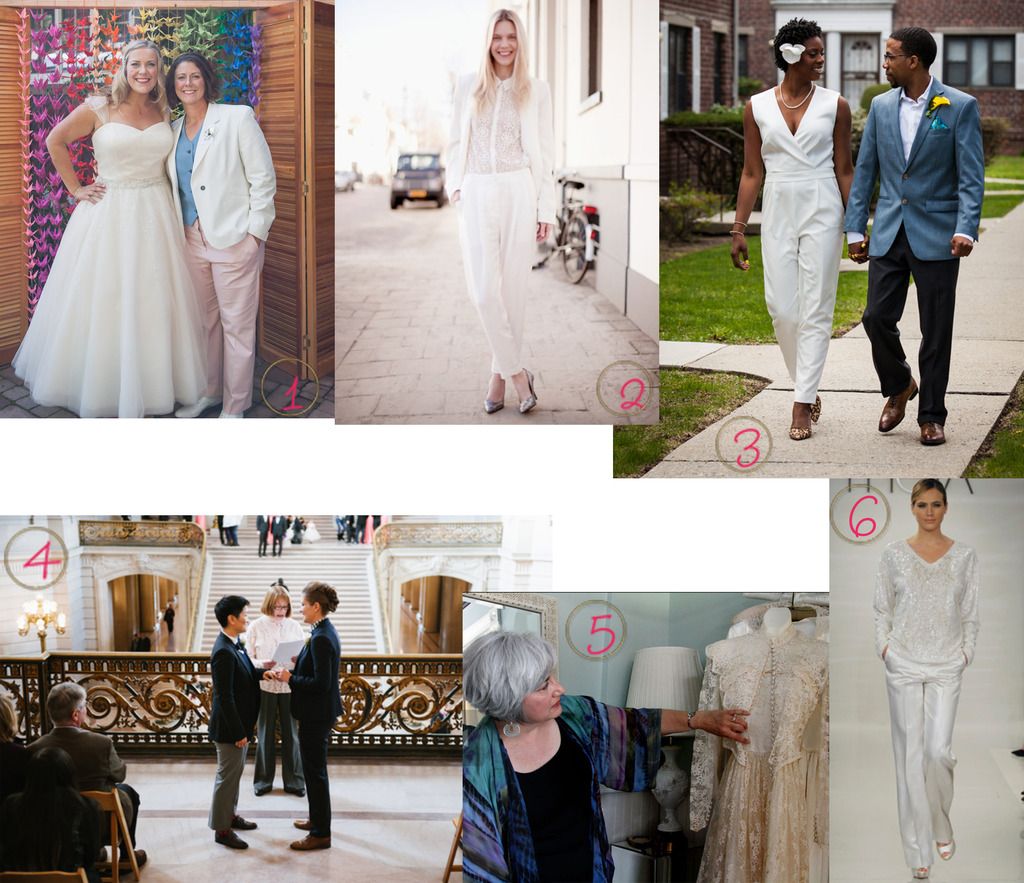 Say Yes To The Dress Pants.
Time for a confession: I spend copious amounts of time on wedding attire blogs, keeping up to date with the shopping trends but also swooning over the countless couples in love – as well as their personal style. Don't lie, I know you do this, too. All jokes aside, it's something truly special to see the signature styles of individuals blend and merge when they come together to plan and style their special day. The beauty of every wedding is in the details and the intimacy conveyed through all the personal choices. After all, this is a day when two separate souls come together in union. It's also a great occasion for us to believe in love again – and witness the number of couples saying "No" to the dress and "Yes!" to bridal pants. Here are my five favorite style roundups of blushing brides in pants.
Check out the style roundup of blushing brides in pants on the Event Plan-It blog! Click To Tweet
Offbeat Bride – The Offbeat Bride gets my vote for an amazing wedding style blog. Her subjects feature Liz and Kim (top left) and NYC couple Melanie and Jalani. Bonus points for mad style to both couples! Melanie's bridal pant choice is actually a sleek, figure-hugging jumpsuit in all white – except for her fierce leopard skin shoes. Kim's ensemble is a classic throwback to days from the turn-of-the-century glam with a modern twist. The beautiful, complementing pastel colours keep the mood light and perfect for a wedding day. She finishes the entire outfit in smooth white brogues. Casual, yet elegant, with her glowing bride: the end to the perfect day and the start of a beautiful marriage.
Photos by Greenseed Photography and Kelly Williams, Photographer
Artisan Bridal – A local Cleveland gem owned by the designer herself, Heidi Korkosz, this bridal shop features vintage finds as well as bespoke wedding dresses. In fact, handmade or tailor made wedding dresses have always been a great way for couples to truly personalize their wedding day. Heidi has an eye for design and a hand that's been sewing since she was 10. It's a well-kept secret and a great idea to bring in your own pantsuit design, which Heidi can work with you to bring to life.
Happy Wedd – Owing to the above, I thought you might need a little inspiration. This website has a great roundup of all kinds of innovative bridal pantsuits. Not limited only to the classic suit or blazer and straight leg pant set, this blog features brides daring to incorporate wide leg flares, tapered ankles, harem pants and jumpsuits instead. Get creative!
Wedding Wire – Another collection of great alternatives for bridal pant suits, this post caught my eye with its more "relaxed" vibe. It's really something great when a subtly sequined sweater and cream colored silk dress pants paired with cream open-toed pumps can be a viable choice for your wedding day! Relaxed, casual and beautiful.
Brides in Pants! – Here's an entire tumblr dedicated to the subject of Brides (and their brides!) in Pants! Need I say more? Just click and get ready to drool over the sartorial delight coming your way. You're welcome.
All photos credited, linked, permission requested and/or granted & under fair use.
Are you waiting to break free of the skirt hoopla and don some trousers for the big day?