Friday Faves: Alternative Engagement Rings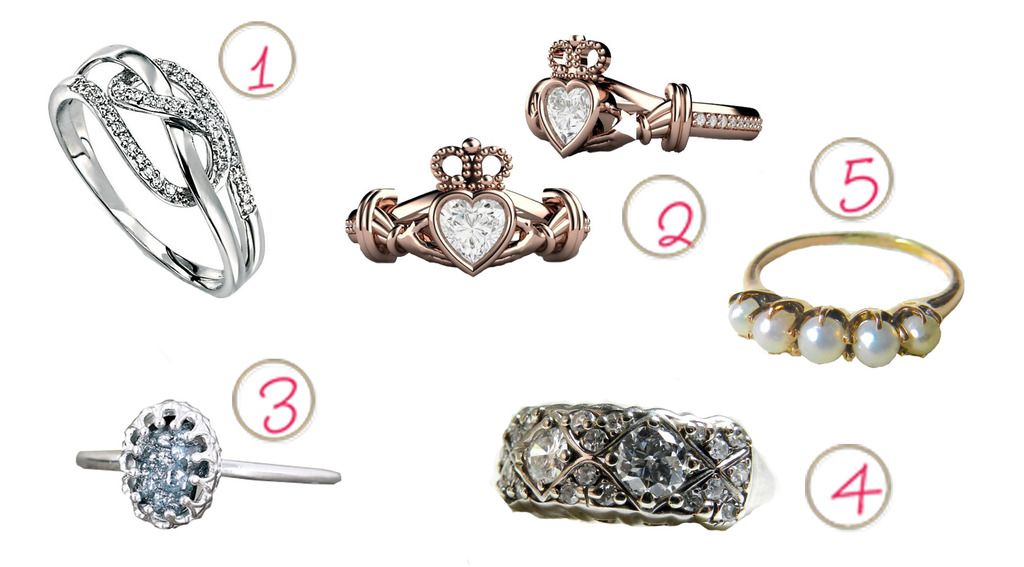 Diamonds might be a girl's best friend (it's debatable), but how about an alternative to the diamond engagement ring?
Event Plan-It has put together a list of the most creative alternatives to a diamond engagement ring for any couple looking to pop the question with style and originality. Your ring symbolizes your connection as a couple and your commitment to one another. If you feel your love is unique (what couple doesn't?) and the conventional diamond just doesn't appeal to you, here are some alternatives that are both meaningful and eye-catching.
The rings featured are all offered by Etsy sellers (a treasure trove of all things crafty and artisanal), and range in price from affordable to investment. Whatever your budget, these beautifully designed rings will help you seal the deal or spark the imagination.
Isla James – Love knots & Infinity knots that evoke a more unique design aesthetic than the simple solitaire.
Rare Earth – Claddagh rings are an old Irish traditional way to bring meaning to your wedding ring and are diverse enough to accommodate gems.
A Second Time – A unique and trendy idea, rough-cut birthstones are a modern choice for couples who want to express their personalities. The birthstones can be diamond, peridot, amethyst, and more, and are "rough cut" to show the raw beauty of the gemstone.
Love Always Galicia – For vintage lovers everywhere, what screams "old world glam" louder than a period/Victorian ring?
Diamond Soul Shop – Something old, something pearl: the original engagement rings traditionally featured pearls!
So what'll it be – traditional or modern? Which alternative engagement rings catch your eye?