Friday Faves: Alternative Engagement Photo Ideas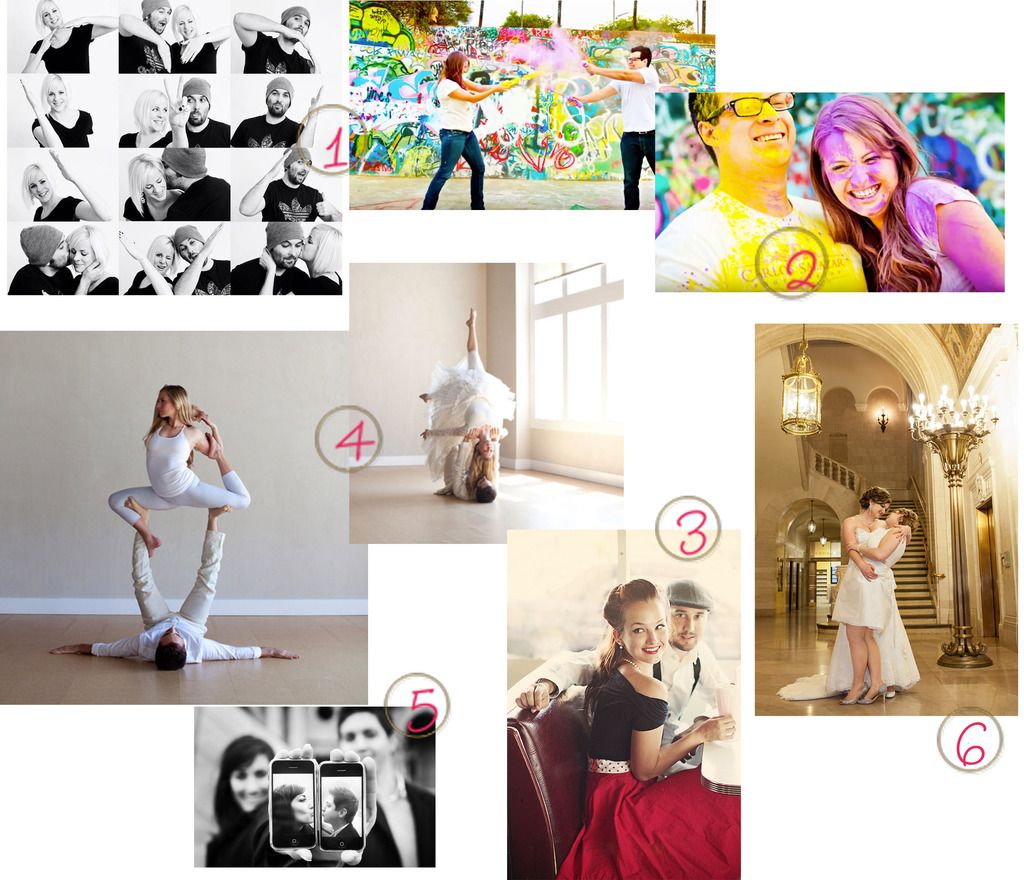 All photos credited, linked, permission requested and/or granted & under fair use.
Smile, you're on the Engagement Camera!
And now, for a little Friday eye candy – creative eye candy that is. These five engagement photo ideas (actually, six, because I just couldn't get enough!) of my favorites have made the list for inventive and alternative engagement ideas. I'm always a sucker for a beautiful, traditional engagement shoot but, once in a while, I like to mix it up. If you're the better half of a kooky couple with a flair for the unconventional (in other words, my kinda peeps and just plain fun), you're going to love these Friday Faves.
Heart Frame Photo Collage – This sweet couple painstakingly puts together an amazing DIY collage. Imagine: multiple takes, repositioning the camera, timer issues and lots of laughs – sounds like the perfectly orchestrated engagement shoot to me!
Paint War! – The popular photographer Carlos Salazaar captures a couple in war – a paint war that is! The process is captured in video and still shots, from start to finish. A great tip is to encase the paints and colorful powders in condiment squeeze bottles. He also recommends having your photographer scope out a great, semi-isolated place full of urban graffiti to amplify the creative and colorful atmosphere.
1950s Malt Shoppe (Glamour & Grace Blog) – For all vintage-lovers and nostalgia junkies, this is a great engagement shoot idea. You'll have to scope out a setting – which is half the fun! – and the costumes and make up are great ways to get creative. It's fun, flirty and unforgettable. Let's call this the "Rule of the Three F's" for a successful engagement shoot.
Photos by Anokiart Photography
Acro Yogagements! – Because couples who do yoga together, stay together. Is that not the saying? Well, clearly it should be. I'm a believer in Acro Yoga for couples after seeing this gorgeous, light-filled engagement shoot. It's a great way to flex your creative muscles as you challenge each other into complex and supportive poses. There's a sense of connection and trust that is built into the poses. When you grow old together and look back on these, I guarantee you'll remember them fondly.
Photos by Kiera Haddock of Kiera Eve Photography
Couples who do yoga together, stay together. <3 Click To Tweet
Make the moment with your iPhones! – For tech-savvy, forward-thinking minimalists, this is a really sweet, inexpensive, and clever way to express your engagement. And you can play Candy Crush or Words With Friends between takes!
Cleveland Public Library – The saying goes, "Book nerds never go to bed alone" – and they also get married at the gorgeous and opulent Cleveland Public Library. Two of my favorite things in one.
Photos by Kelsey & Meghann of In Lace Photography
Any alternative engagement shoot ideas in your viewfinder?